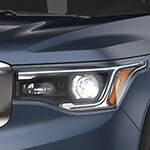 A GMC Acadia is one of the most luxurious cars to drive. When it comes to safety matters, the car is also estimated to be one of the safest cars with a rating of five out of five from the NHTSA. It has appeared in the market as an SUV that has the following safety features.
When a car has an Antilock Braking System, it will automatically sense when the tire stops rotating due to extreme braking. It will therefore help to reduce brake pressure to enable the tires to rotate. The process increases the traction of the car while still braking.
The Stability Control system can detect when the vehicle is straying from the intended path due to losing traction. Stability Control can reduce engine power and apply select brakes to prevent the car from losing control.
The front impact airbags protect the driver and the passengers during a crash.