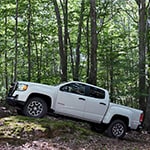 Looking for a midsize pickup that can handle everything you need it to? Look no further than the 2022 GMC Canyon. When it comes to performance, this truck has it all. Here are just a few of the specs and features that make the Canyon stand out:
-Towing capacity: When it comes to towing capacity, the Canyon can handle up to 7700 pounds. That means you can easily tow a boat or trailer with this truck. When properly equipped, of course.
-Payload capacity: The Canyon also has a payload capacity of up to 1600 pounds. That means you can easily carry a load in the bed of this truck without any problems.
-Engine options: The Canyon comes standard with a 200-horsepower four-cylinder engine. However, you can also opt for the available 308-horsepower V6 engine. That means you can get the power you need when you need it.
-All-wheel drive: The Canyon also comes standard with all-wheel drive. That means you'll be able to tackle any terrain, no matter what the conditions are like.